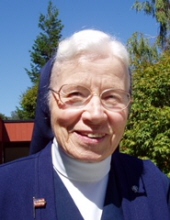 Obituary for Sr. Adelaide Kulhanek
Sister Adelaide Mary Kulhanek, D.C. age 94 of Los Altos Hills, CA passed away Wednesday February 7, 2018.

Rosary followed by the Mass of Resurrection will be held Monday, February 12, 2018 starting at 6 pm in the Laboure Chapel at the Seton Provincialate in Los Altos Hills. Funeral mass will be Tuesday, February 13 at 10 am at the same location followed by graveside services.

Sr Adelaide was born December 17, 1923 in Baylor County to the late Antone and Annie (Kubish) Kulhanek. She graduated from Megargel High School in 1941. She attended the University of Texas in Austin before entering the religious community at the Marillac Seminary in St. Louis, MO in 1946. She was a sister in the community of the Daughters of Charity of St. Vincent de Paul for over 71 years. She received her Bachelor's degree from Fontbonne College in St. Louis and her Master's degree from DePaul University in Chicago, IL.
Sr. Adelaide's missions have been primarily in education as teacher, principal, registrar, and in administration with children, the Daughters of Charity, and others including men preparing for ordination as deacons. She has held administrative positions with the Council and within the Province. She has served as Chaplain at O'Connor Hospital and other hospitals in the Seton system. She served on the Villa Siena Foundation Board in Mountain View, CA. Her missions have taken her all across the nation including Maryland, Illinois, Utah, Texas, California.

Sr Adelaide resided at the Laboure residence for the past 6 years or so where her assignment was part of the Apostleship of Prayer even as she depended on care from others for her own well-being. She was always known for her smile, her sense of humor, her tall stature, her kindness, her pride in her Texas roots, her organization skills, her creativity, her love and care for every person around her insisting on protecting and respecting each person's dignity. She was loved and respected by her peers and almost everyone she met. While at Laboure, she discovered her talent for art in the forms of painting, drawing, ceramics, coloring. She spent hours creating beautiful pictures with an array of colors. She had beautiful penmanship and wrote wonderful letters, created stunning scapebooks and designed lovely greeting cards in years past. She was also known to sing and change up the lyrics of known songs to entertain or describe her friends.

Sr Adelaide was preceded in death by her parents, Antone and Annie Kulhanek, her brothers Daniel, George, Charlie, and Joe Kulhanek, and her sisters Sophie Wilborn and Edith Kulhanek. She is survived by many nieces and nephews in Texas, Ohio, Michigan, and Oklahoma.

The family suggests memorials be made to the Megargel Catholic Cemetary Fund, c/o Janice Lane, P.O. Box 42, Megargel, TX 76370 or to any charity assisting the poor or for education.