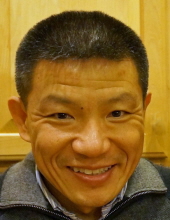 Obituary for Toshihiro "Toshi" Tanaka
Toshihiro Tanaka passed away at age 56 on April 24, 2018, in Fremont, California. Toshi was born on November 23, 1961, to the late Mitsuko and Shigemitsu Tanaka, in Kyoto, Japan. He graduated from Kyoto Institute of Technology and had a distinguished career in the tech industry, working at iconic firms such as NEC, Oracle and Yahoo. He finished his career as a Senior Software Developer at Amazon Lab126. Toshi was the loving and devoted husband of Caroline. He is survived by his brother, Masakazu. Toshi had a passion for constant learning and enjoyed astronomy, ham radio, fishing, cycling and scubadiving. He was also a gastronome who loved to sample foods around the world.

Caroline would like to thank all the family, friends, doctors, nurses and hospital staff for the love and support throughout this trying time. Donations in Toshi's name to Washington Hospital Healthcare Foundation (email - foundation@whhs.com) are welcome and appreciated. A memorial photo album can be accessed by a copy/paste of the following link: https://photos.app.goo.gl/n8iDhZHKqo7ezSVf1

All are welcome to attend the funeral service on Thursday, April 26 from 1:00 to 5:00 p.m at Cusimano Family Colonial Mortuary, 96 West El Camino Real, Mountain View, (650) 968-4453.