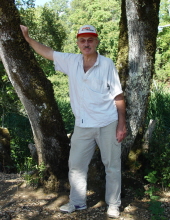 Obituary for Douglas J. Frieson
Douglas Jerome Frieson
Resident of Los Altos, CA and
Former Resident of Bismarck
April 23, 1953 - May 06, 2018

Doug Frieson was born in Minot, ND. His family moved to Bismarck where Doug became a 1971 graduate from Bismarck High School. He was a budding chemist who performed experiments in his mother's kitchen. He attended Bismarck Junior College and NDSU, Fargo. He Then left ND to attend Foothill College in Los Altos Hills, CA. While at Foothill College, he met his future wife, Erica Oster, From Foothill he transferred to UC Berkeley where he studied chemistry. Doug then moved to the University of Montana in Missoula where he graduated with a pharmacy degree in 1980.

Doug worked as an In Patient Pharmacist at Santa Clara Valley Medical Center in San Jose from 1980 until his retirement in 2005. Doug was an accomplished hospital pharmacist, who helped thousands of patients during his career.

Doug was a great husband to Erica since 1978 and a wonderful father to his three children, They made their home in Los Altos, but every year the family would return to spend part of the summer in his beloved North Dakota. He had many friends in the Bismarck area growing up and as a young adult

Doug loved to garden, especially cactus. He could grow anything. He was also a pilot of small airplanes in North Dakota and California flying clubs. Doug was also interested in real estate, at one time owning three apartment buildings in Bismarck.

Doug became ill with a serious heart disease five years ago Many thanks to Pathways Hospice from his family and to Dr. Betsy Strong for her kind support.

Doug is survived by his wife, Erica, Los Altos, CA and children, Deanne Frieson of Price, UT, Derrick Frieson of Los Altos, CA, and Melanie Frieson of Bismarck, ND. one grandson Darren Peacock of Price, Ut., His mother Virginia Frieson of Bismarck, ND, three sisters, Jordice Ohnesorge of Oceanside, CA, Jill LaBatte of Cathedral City, and Janell Frieson of Minneapolis, Mn. Also surviving him are his niece Jenny Johnson of Oceanside, CA , a nephew, Cory Ohnesorge of Denver, CO and another niece Sheyenne Teresko of WI.