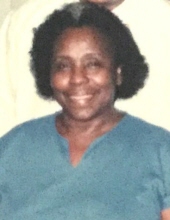 Obituary for Sylvia Clay Osborne
Sylvia Clay Osborne
December 25, 1938 - February 24, 2018

Sylvia Kyle was born on Christmas Day in 1938 in Okolona, Mississippi to the late Luther and Lillie Kyle. Sylvia passed away peacefully surrounded by family on February 24, 2018 in Castro Valley, California. She was 79 years old.
While in Mississippi, Sylvia met the love of her life, the late Archie Osborne. He dreamed of raising a family in a prosperous town and fell in love with Northern California. Archie and Sylvia relocated to Mountain View, CA and were married on September 16, 1959. From this union, four children were born: Tonia, Anthony, Angelo and Muhsin.
Sylvia first worked as a nurse and continued caring for others long after she left the profession. She was not only a devoted wife and mother but she also helped Archie successfully run their moving company, Osborne Moving Co. For more than thirty years, they worked side-by-side to make Osborne Moving well-known in the Bay Area. In her later years, Sylvia enjoyed spending time with her grandchildren. On any given day you could find her at the park, caring for a grandchild, or showing her support at a school event. She also had several nieces and nephews whom she loved very much. Sylvia was selfless and dependable; she gave her love and affection willingly, asking nothing in return. She enjoyed cooking and baking for loved ones, and her sweet potato pie was the best around. She always welcomed family and friends into her home with kindness, open arms, and a warm meal. She had a smile that could light up a room and a laugh that was incredibly infectious. Sylvia had a heart of gold and was so nurturing that everyone who knew her lovingly called her "Mom."
Although she will truly be missed, we know that we will be together again and we take comfort in knowing that she will be reunited with her beloved husband. Somewhere in the afterlife, Archie is calling for Sylvia just like he always did when they were together.
In passing, Sylvia joins her four brothers: James, Luther, Thomas and Eugene Kyle and one sister, Iola Taylor Bell. Left to cherish her memory are her four children Tonia (Elwood) Jones, Angelo, Muhsin and Anthony Osborne; sisters Beatrice (George) Grundy of Beloit, Wisconsin, Juanita Donaldson and Minister Myrtle (John) Doaks of South Bend, Indiana; and two brothers Isaiah Kyle of Lithonia, Georgia and Joe (Ida) Kyle of South Bend, Indiana. She was a proud grandmother and is survived by eight grandchildren: Gabrielle White, Tiffany (Mike) Dunn, Jordan White, Brianna Barrett, Ashley Osborne, Kyle Osborne, Angelo Osborne Jr., and Caleb Osborne; and one great grandchild, Boston Paige. She also leaves behind several nieces, nephews, cousins and very dear friends who cared deeply for her.
Although our hearts are filled with sadness at Sylvia's passing, we are blessed with memories of her life and will always cherish the time we were graced with her beautiful presence.
An invitation is extended to attend the visitation from 5-9pm Thursday, March 8, 2018 at The Cusimano Family Colonial Mortuary, 96 W. El Camino Real, Mountain View, Ca.,
And the funeral service at 11:00 AM Saturday, March 10, 2018; also at the Mortuary.
Previous Events
Visitation
Cusimano Family Colonial Mortuary
96 West El Camino Real
Mountain View, CA 94040
Service
Cusimano Family Colonial Mortuary
96 West El Camino Real
Mountain View, CA 94040