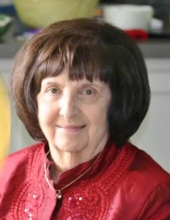 Obituary for Olga Sadotti Aasen
Olga Sadotti Aasen
1930-2018
Los Altos

Olga Aasen, retired nurse, passed away Friday, March 9, 2018 at age 88.

Born the third of four daughters to Savino Sadotti and Mary Scielzi Sadotti on January 1, 1930, in Hartford, Connecticut, Olga attended nursing school at Massachusetts General Hospital and graduated as a registered nurse in September 1951. She joined the United States Air Force in 1959 and served as a general duty staff nurse. Olga achieved the rank of captain and was stationed at Wheelus Air Force Base in Tripoli, Libya, where she met many of her longtime friends and learned how to cook her legendary marinated shish kebobs. In 1963, she was transferred to Luke Air Force Base in Glendale, Arizona, and met Donald Aasen, a fighter pilot. They were married that same year and together raised three daughters along with Don's two sons.

The family settled in Los Altos, where Olga was a resident for 42 years. One of her greatest joys was working at El Camino Hospital, where she was a nurse primarily in the emergency room for more than 20 years. In 2013, Olga moved to the senior living community of Villa Siena in Mountain View, where two of her sisters also resided.

Olga had a love of fashion and was known to frequent Saks Fifth Avenue, I. Magnin and Neiman Marcus at Stanford Shopping Center. She greatly enjoyed singing in the St. William Parish choir and was an active volunteer in the church community. Olga will be missed by her family and friends for her tireless energy, abundant generosity and her lavish holiday dinner spreads.

Olga is preceded in death by her husband, her daughter Illyana McManus (Terry), and sister Ida Cianci. She is survived by sons David (Valerie) and Michael (Karen), daughters Mary-Sonja Beasley (Bill) and Claudia Blaine (Thomas), sisters Anna Sadotti and Ernestine Smith, 13 grandchildren, 10 great-grandchildren, four nieces, and two nephews.

A funeral Mass to celebrate Olga's life will be held on Friday, March 16, at 10 a.m. at St. William Church in Los Altos with a reception to follow in the parish hall.
Previous Events
Funeral Mass
St. William's Church
611 S. El Monte Avenue
Los Altos, CA 94022