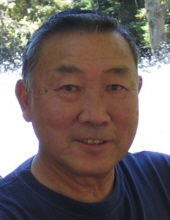 Obituary for Donald Lau
Donald Tim Fat Lau of Mtn. View, passed away on March 12. Born in Honolulu, HI, he was the youngest of 8 children of Nget Lan Yim & Yin Tai Lau. After graduating from St. Louis School in HI, he enlisted in the Army for a couple of years before joining the Harlem Globetrotters Basketball Organization. He married Erma Hennessey in 1966 in HI before relocating to CA, where he worked at Safeway for over 35 years.
Don enjoyed being an umpire for the MV baseball leagues. When he retired from Safeway, he pursued this passion by actively umpiring girls' fast pitch and adult slow pitch softball. He was the Umpire-in-Chief for the Santa Clara Metro area for over 10 years. He was a loyal fan at his children's & grandchildren's sporting events and was a Giants & 49er faithful.
He is survived by his children - Guy, Lori (Frank), Ginger (Chris), Liesl (Albert), Deanna (Miles); granddaughters Victoria, Deanna, Mariah, Elizabeth & Rebecca; great-grandsons Lucien & Draven and siblings Walter, Ethel, Joyce & Mabel.
A celebration of Don's life will be held on Thursday, April 19 at 11:00am, viewing begins at 10:00am, Los Altos United Methodist Church, 655 Magdalena Ave. Aloha attire requested.
Previous Events
Service
Los Altos United Methodist Church
655 Magdalena Ave.
Los Altos, CA 94024