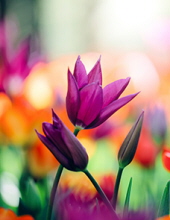 Obituary for Cyrilla Cabral Medeiros
Cyrilla Cabral Medeiros
October 27, 1924 – June 12, 2018
Cyrilla Madeline Cabral entered the world on October 27, 1924, the second daughter of Frank and Millie Cabral of Nahiku and sister to Margaret (Wilhelm), Tommy, Joe, Richard and Stephen, all of whom preceded her in death. She passed away on June 12, 2018 at the age of 93 surrounded by family at Villa Siena Nursing Facility in Mountain View, California.
The beautiful Cyrilla caught the eye of her future husband, Edwin Wilfred Medeiros of Paia, who courted her by leaving flowers and "Forever Yours" candy bars on her doorstep. This became their promise to each other as they married on August 14, 1943 at Holy Rosary Church in Paia, the ceremony taking place at 7:00 a.m. due to the wartime curfew. They first made their home in Paukukalo and then moved to Wailuku where they brought up their five children Monte, Vernay, Cynthia, Sylvia and Gregory.
In 1959, the family moved to the mainland eventually settling in their Mountain View home of 56 years, where Cyrilla and Eddie filled it with the Aloha spirit. There were parties with ukulele playing, singing and lots of hula. She passed on Hawaiian traditions to her family and grandchildren with her island-style cooking and gardening, growing plumeria, hibiscus, ginger and ti leaves. The centerpiece was the beautiful guava tree from Maui that she grew from a seedling and flourished in her care.
As a teenager Cyrilla worked in the cane fields near Hana. As a young woman, she worked as a telephone operator during the war and later for her father-in-law, John "Kama'aina" Medeiros, who owned a liquor store in Paia. In California, she worked for 20 years as a supervisor at Applied Technology in Sunnyvale.
Cyrilla's lifelong passion for baseball began with hosting a luau in honor of the Brooklyn Dodgers when they visited Maui in 1956, thereafter becoming their number one fan. Her loyalty to the Dodgers was legendary, lively and "true blue." She beamed when she finally got to see them play at Dodger Stadium in Los Angeles.
Cyrilla also passionately expressed her Democratic ideals and was a devoted "Mama for Obama." She was most passionate however about her Catholic faith, which informed and inspired her throughout her life. For many years Cyrilla volunteered at Martha's Kitchen in San Jose to prepare food for the homeless. On Thursdays, Cyrilla prayed the rosary with the residents at Grant Cuesta nursing facility and attended Mass daily at St. Joseph's Church in Mountain View.
Cyrilla's travels included Europe, Brazil, Mexico, Canada, Fiji and Tahiti – with Eddie and lucky family members who occasionally joined them. She (mostly) had good luck at the casinos but always had a good time. Forever sharing the spirit of Aloha, Cyrilla was known to do the hula at any opportunity, always with grace and her light shining through.
A celebration of life took place in Mountain View on August 3, 2018. A Memorial Mass sung in Hawaiian by vocalist Faith Ako was presided by Father Bob Moran, a good friend of Cyrilla's. She then joined her beloved husband Eddie who had been waiting 15 years at Gate of Heaven in Los Altos.
Cyrilla is survived by her children Monte (Sabrina), Vernay (John), Cynthia (David), Sylvia (Larry) and Greg (Robyn); 8 grandchildren Shane, Brandon, Meghan, Benjamin, Caitlin, Corinne, Lauryn and Alyssa; 5 great-grandchildren Caden, Jackson, Cameron, Samara and Brinley; and lovingly remembered by nieces and nephews spanning 4 generations.
Me Ke Aloha Pumehana – With All the Love in Our Hearts
~ Mahalo Mom ~

If you wish to make a donation, the family suggests Martha's Kitchen, 311 Willow Street, San Jose, CA 95110 (www.marthas-kitchen.org). Thank you.